Floor coverings with PVC have been criticised for decades, especially because of the harmful plasticisers they contain, which have a negative impact on our environment and health. Here we show you that there are alternatives to PVC design floors, what they are and how to recognise them.
What is a PVC-free design floor?
To understand what a PVC-free design floor is, it is necessary to explain what is generally understood by the term "design floor". This is because it is by no means firmly defined, but can have the most diverse characteristics due to the materials used.
Similar to laminate, a design floor is multi-layered. It comes in the form of tiles, planks or boards and consists of several layers: Backing layer, core board, decorative layer and wear layer. An integrated impact sound can also be incorporated here.
The surface of the design floor is of decisive importance. This is firmly bonded to the core board and can be made of very different materials, for example PET (polyethylene terephthalate) or PP (polypropylene). If it is made of polyvinyl chloride (PVC), it is often referred to as vinyl flooring. Although the term vinyl flooring is mostly used in everyday usage for floor coverings that are made of plastic, it is sometimes considered problematic - namely when it contains plasticisers from the group of phthalates.
What is the problem with PVC and plasticisers?
In order to achieve the required elasticity of the floor covering for installation and to make the PVC more pliable during the production process, harmful plasticisers are used. A whole series of these plasticisers, some of which contain phthalates, have been the subject of criticism for decades, as they are anything but healthy for the home: They are not firmly bound in the product and can therefore escape into the environment, for example into the indoor air. This can have serious negative consequences for humans, animals and the environment, as most plasticisers have hormonal effects and have been proven to be carcinogenic, mutagenic and toxic to reproduction.
Are there design floors without PVC, or do they always contain plasticisers?
Yes and no. Since the term design floor is neither protected nor precisely defined, a whole range of ingredients can be contained in the respective floor covering. Therefore, it is important in any case to research very well in advance what kind of plastics the floor is made of: Was it manufactured in Europe or does it come from China? Which materials were used for the production of the core board and top layer? Relevant seals provide orientation here.
How do I identify a PVC-free design floor?
There are a few common seals that provide consumers with orientation in the jungle of offers. You can find the two most important ones here:
"Blauer Engel" (Blue Angel)
The "Blauer Engel" (Blue Angel) is the environmental label of the Federal Republic of Germany. The Blue Angel ensures that products are free of harmful plasticisers and generally low in solvents and harmful substances. In principle, it cannot be awarded to PVC products.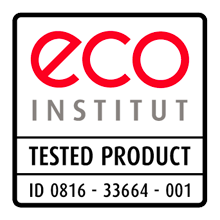 The eco-INSTITUT is one of the most experienced German laboratories for indoor analytics and tests products primarily for emissions (outgassing). In addition, the eco-INSTITUT carries out odour tests and examines products for harmful ingredients such as phthalates (plasticisers), heavy metals or pesticides.
What are the disadvantages of design floors?
Basically, design flooring is a plastic or hybrid product (a mix of wood and plastic). This does not necessarily have to be negative, especially in times of increasing scarcity of raw materials (wood), although hybrid products cannot be recycled at the present time.
Therefore, at this point it makes more sense to either opt for a natural floor covering or to go for a purely synthetic product. The key here is sensible and well thought-out use and, accordingly, above all the explicitly used plastics (design for recycling): If one selects those that can be 100 percent recycled and thereby relies on a stable circular economy, one can also do something good with the use of plastics. Because design floors, if they are free of harmful substances, offer many advantages.
What are the advantages of a PVC-free design floor?
The advantages of a synthetic floor are obvious: PVC-free design flooring is flexible and elastic. This means that it is extremely easy to install. Installation is even easier thanks to an integrated click system. Thanks to its water resistance, the floor can also be used in wet areas and is easy to maintain and clean.
The extremely robust floor coverings, which are also excellently suited for use in the contract sector, also feel very good thanks to their abrasion-resistant textured surface. They are easy on the joints and provide a high level of walking comfort and a warm barefoot feeling.
Our commitment - 100 % sustainable
At CLASSEN, we have always relied on sustainable products from ecologically sound production and carefully sourced raw materials. This makes our floor coverings absolutely healthy to live with.
In addition, we have developed the new material CERAMIN® for our range of tiles and planks. This is "Made in Germany" and already makes PVC-free polymer floors 100 percent recyclable, does not pollute the environment - and thus the future of future generations - contains neither chlorine, nor phthalates or other harmful plasticisers or stabilisers.
At the end of their service life, our floor coverings can be 100 percent recycled and made into new flooring - without any loss of quality. In this way, we fulfil our responsibility towards future generations.
All our CERAMIN® floor coverings are certified with the Blue Angel and the Eco-INSTITUT label.
What decors are available for PVC-free design floors?
Our CERAMIN® floor coverings are available in numerous decors, whether natural stone, marble, granite or wood. Their natural design is always convincing. Compared to other design floors, with CLASSEN you get a wide range of choices and can select from over 20 different decors for our planks alone, which can hardly be distinguished from real wood products thanks to our in-house digital printing process.
Convince yourself:
CERAMIN® tiles
Wall and floor tile
NEO 2.0 / NEO Pro
Floor covering
Where can I buy PVC-free design floors?
Would you first like to request a sample to see the look and quality of our floor coverings for yourself? Our numerous collections offer you the opportunity to do so. Under the respective design, you can easily and simply order your personal sample for viewing: